Now you have the opportunity to introduce an amazing and unique Staff Benefit that will support your employees in saving time, hundreds of pounds and ultimately giving them peace of mind in maintaining their car(s). Since we work with partnered garages, we can assure you that your employees will be well looked after.
EasyCarCare partner with quality local garage owners who are happy to offer new customers up to 80% savings (£100's), on maintaining their car, for a full 2 years, including 2 FREE MOTs!
Organisations and companies like Tesco, Barclays, local councils, police sports and social clubs, NHS Trusts, schools and universities are already using our DISCOUNTED EasyCarCare packages.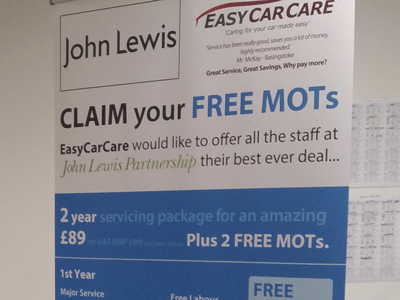 Even if you don't have an Employee Benefit Scheme in place, you can still offer these DISCOUNTED savings to your employees.
We also offer EasyCarCare packages to support local charities, company charities, sports and social clubs, and social enterprises. Your charity or club can even MAKE MONEY every time someone takes advantage of an EasyCarCare package.
Less hassle, a great service and fantastic savings
Happy staff are productive staff!
Enable your employees to save time and money by utilising the EasyCarCare group of selected garages to maintain their car.
Whether they want to save money and use a garage close to home or would prefer to use a garage close to work, we can help.
All our garages offer a FREE collection and delivery service to home or work (terms and conditions do apply) or in some cases, a FREE courtesy car.
The way it works is simple
We provide DISCOUNTED EasyCarCare packages to your employees or members, saving them time and money.
We set up everything for you and work with you to let your employees know about EasyCarCare and the special discounts available to them.
Your staff then give us a call or apply online when they want to take advantage of the discounted EasyCarCare package.
Sign up now or find out more
No matter how many staff you employ or members you have, request a call back and let's introduce these amazing benefits as soon as possible.
Latest testimonials on Facebook
EasyCarCare is a registered trade mark of Best Is Local Ltd (formerly called Footprint Field Marketing (UK) Ltd.